Výzkumný Ústav Železniční, a.s. (VUZ) will take part in the thirteenth InnoTrans 2022 fair in Berlin on 20–23 September 2022. The modern corner stand, situated in Hall 27 (Stand no. 551), will feature among other things a new fully functional VUZ Test Centre Velim model railroad yard. In addition to that, VUZ will present brand new 3D virtual reality tours through the test centre and the Dynamic Test Laboratory interior.
Official presentations of VUZ innovations and portfolio are scheduled for 20 September at 2 p.m. when NoBo/ DeBo/ AsBo services will be presented and at 4 p.m. presentation of Cyber Security Testing: Coaches, Trains, Units, as well as for 21 September at 10 a.m. (presentation of the Strength and Fatigue Test Department), and 1 p.m. (presentation of the VUZ Test Laboratory).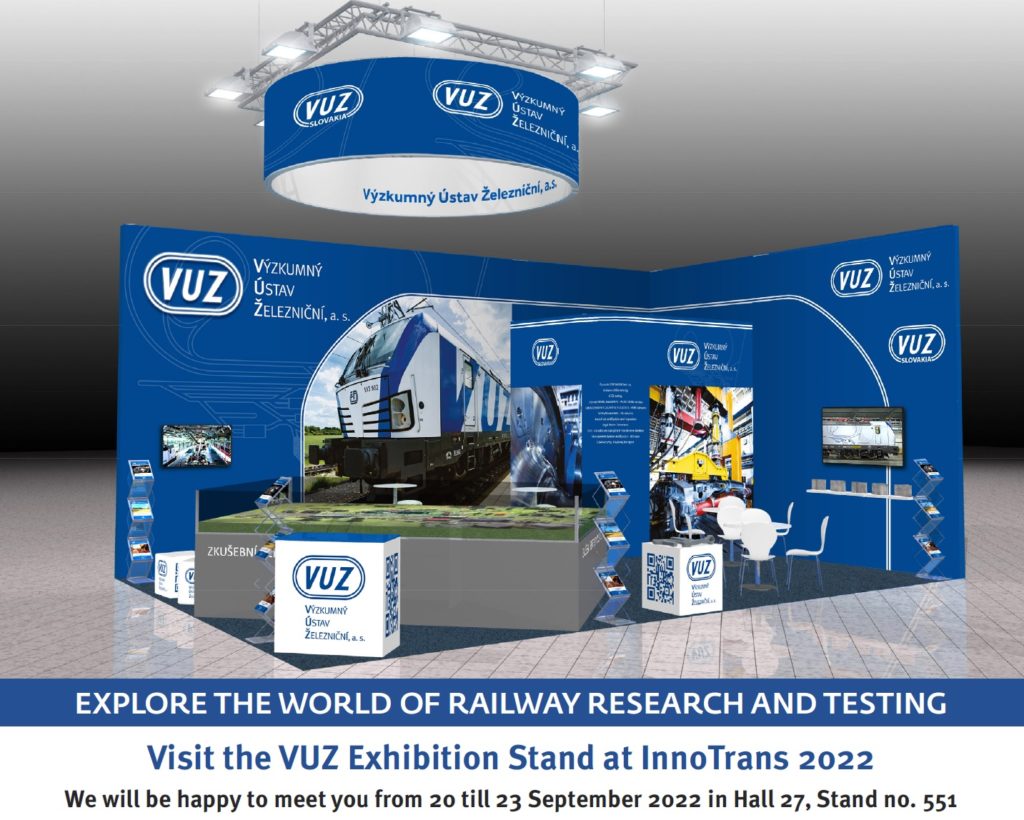 Highly qualified VUZ experts will be available at the exhibition stand throughout the fair, ready to guide visitors from both the professional community and public through the exhibition, answer any questions and present the activities of VUZ, the European leader having more than fifty years of experience and know-how in railway research and testing.
"The VUZ stand will be a gateway to the world of railway research and testing. We will inform visitors about the latest research findings and testing possibilities not only in the railway sector. We will show how components are tested to keep passengers safe. Visitors will for example see how a draw gear looks after a fatigue test," Ing. Martin Bělčík, Chairman of the Board and General Director, VUZ comments the exhibition and adds: "Professionals will appreciate presentation of assessment and certification of products and vehicles, especially assessment of interoperability on the European railway system. Just come to see how we test and authorize the future."
The last year of the fair held before a pandemic break in 2018 attracted more than 3,000 exhibitors from 60 countries and was attended by more than 160 thousand visitors. This year InnoTrans will be subdivided into five fair segments (Railway Technology, Railway Infrastructure, Public Transport, Interiors and Tunnel Construction), which will extend across all 42 halls of Berlin exhibition grounds.