VÝZKUMNÝ ÚSTAV ŽELEZNIČNÍ, A.S.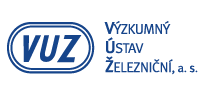 Adress: Novodvorská 1698, 142 01 Praha 4
Phone: +420 972 734 290
E-Mail: podatelna@cdvuz.cz
Web: www.cdvuz.cz
Employees: 110
Activity: Assessment, testing activities, consulting
Výzkumný Ústav Železniční, a.s. (VUZ) is a company specialized on expert services and comprehensive solution in the field of assessment, testing activities and constulting for railway system and rail transport. The main activities are testing services, connected with Test Centre VUZ Velim and conformity assessment of European railway system. VUZ is a consider as a Authorized Body (Notified Body in all structural subsystems of railway system – infrastructure, energy, control command and signaling, rolling stock.
Authorized Body No. AO 258
Notified Body No. 1714
Accredited Inspection Body No. 4056
Certification Body for product certification No. 3149
Accredited Testing Laboratory No. 1462
VUZ has a large scope of activities. It coprises:
Authorized – Conformity management
Accredited – Testing, Certification of products
Expert activities
Services provided on Test Centre VUZ Velim: Railway Test Circuits (Large Test Circuit – 13, 272 km, Small Test Circuit – 3,951 km), Dynamic Test Laboratory, Halls for test preparation.